LD3/AKE KiteLight Container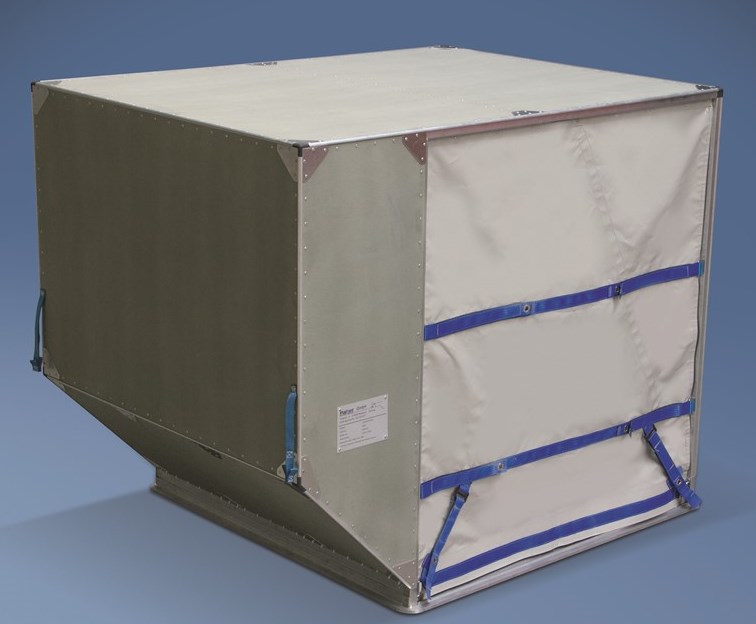 The PalNet KiteLight LD3/AKE container is a non-welded unit with composite panels and an aluminium frame. As an option aluminium panels are also available.
The base plate consists of high resistant aluminium alloy 7021-T6. The hollow edge rails of the base panel are made of alloy 7020-T6. Frame alloy is 6082-T6.
The vinyl cover is fastened by stainless steel oval rings and 3 Velcro straps. The standard colour of the cover is grey. However we can offer the colour to the customer request. PalNet offers the cover with one or two restraint bars as an alternative. The flexible door is equipped for customs sealing. The container comes with a TSO aluminium placard, vinyl pouch and ODLN Sticker.
Data:
| | |
| --- | --- |
| IATA Designator | AKE |
| Design Specification | AS 36100-2K4C ; ETSO C90d, TSO C90d |
| Part Number | 27CLD300 |
| Tare weight | 121 lbs / 55 kg |
| Base Size | 60.4" x 61.5" / 1,534 mm x 1,562 mm |
| Height | 64" / 1,626 mm |
| Roof Length | 79" / 2,007 mm |
| Max. Gross weight | 3,500 lbs / 1,588 kg |
| AC Applications | A300 / A330 / A340 / A380 / B747 / B777 / DC-10 / MD-11 |